Map Unavailable
Date/Time
Date(s) - 05/11/2020 - 06/11/2020
8:30 am - 5:00 pm
Categories
It is our pleasure to announce this year´s Nature Masterclass!
The Masterclass on Scientific Writing will be a two-day interactive workshop where you get the unique opportunity of direct feedback from editors in Nature journals.
We aim the masterclass at IBA supervisors (postdocs, researchers, junior group leaders and associate professors) together with PhD students. We also take applications from PhD students "alone" and postdocs.
Please note: this workshop has been converted to a digital version (November 5-6th and November 9th). We have three slots available for PhD students or postdocs. Apply through the PhD-student link under.
Webinar 1: Focus on Scientific Writing I 

What Makes a Great Paper?
Titles and Abstracts

Thurs 5 Nov (10:00-12:00 Berlin time)
Webinar 2:  Focus on Scientific Writing II 

From Introduction to Conclusion 
Figure Presentation

Thurs 5 Nov (14:00-16:30 Berlin time)
Abstract Review (8 mins)
Monday 9 Nov (10:00-12:30 Berlin time)
Webinar 3: Focus on Scientific Publishing I 

Submitting Your Paper 
The Editorial Process and Peer Review

Friday 6 Nov (10:00-12:00 Berlin time)
Webinar 4: Focus on Scientific Publishing II

Journal Decisions
Plagiarism and Other Ethical Issues

Friday 6 Nov (14:00-16:30 Berlin time)
Phd-students: not able to go with your supervisor? Send in your application here: link 
Postdocs: send in your application here: link 
Supervisors: send in applications for you and one phd-student here: link
Deadline: August 24th
Date/Time: November 5-6th.
Place: TBA, Oslo (if meeting physically is not possible, the Masterclass will be offered fully digital)
Topics include:
What makes a great paper?
Interactive module on designing clear and informative figures and tables
The golden rules of writing and structuring the text in your paper
+ many more
Please bring along a printed version of an abstract of a recent or unpublished manuscript (supervisors) and an abstract for a manuscript in preparation or conference abstract (PhD students).
All will have their abstracts reviewed by Nature editors.
About the editors:
Nature Reviews Microbiology, Chief Editor: Ursula Hofer, MD PhD.

Ursula completed the MD PhD programme of the University of Zurich and ETH Zurich, Switzerland, in molecular biology. She studied HIV's effects on the gastrointestinal tract and how the virus and gut microbiota interact to disturb the immune system. As a postdoctoral researcher, Ursula contributed to a HIV gene-therapy project at the University of Southern California, USA. In early 2013, Ursula started her career in scientific publishing as an Associate Editor of Nature Reviews Microbiology. After helping to launch Nature Reviews Disease Primers in 2015, she joined the journal again as Chief Editor.
Associate Editor: Daryl David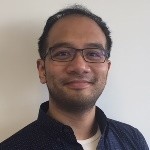 Daryl joined Nature Communications in February 2018.  He obtained his PhD at the University of Toronto in the Collaborative Program in Developmental Biology, working on dynamic cytoskeletal networks and their regulation by the cell polarity machinery during Drosophila embryogenesis.  For his postdoctoral research at the Pasteur Institute, Daryl investigated secreted virulence factors of Listeria monocytogenes and their host cell targets.  He currently handles manuscripts in cell biology including membranes and trafficking, cell division and cell cycle, cell motility and adhesion, mechanobiology, and nuclear cell biology.  Daryl is based in the Berlin office.
The stay will include a networking dinner on the Thursday evening.
Course expenses, travel and one night in hotel will be covered by IBA.
Participant: 24 (12 supervisors and 12 PhD students). This might be downscaled if there are rules preventing certain group sizes. If we are prevented from having a physical course a virtual version will be offered.
Please don't book your travel until you get confirmation from us. We hope we are able to meet in person, but a final decision will be made 6 weeks prior to the course at latest. 
Questions? Contact: tina.svingerud@ibv.uio.no